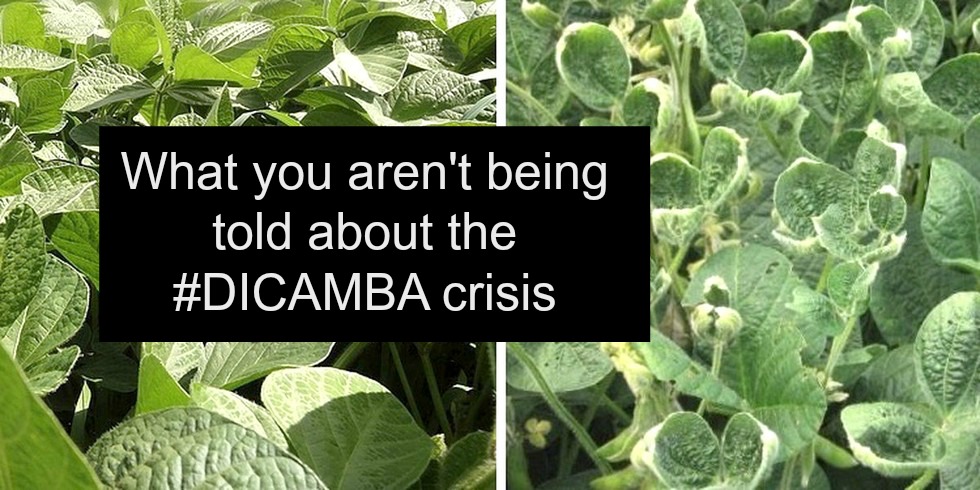 Brandon Turbeville
September 11, 2017
While most of the focus has centered on glyphosate in terms of dangerous pesticides, there is another weed killer that is posing a danger to crop growers –
dicamba
.
Although not the only state affected by the growing dicamba controversy,
Ohio has been one
of the afflicted states.
Although the state has only received 19 official complaints of dicamba damage in 2017, weed specialists like Mark Loux at the Ohio State University Extension, an outreach arm of the College of Food, Agriculture, and Environmental Services at Ohio State University, says this is most likely because farmers do not tend to want to report their neighbors.
They tend to fault the dicamba not the person who is applying it.
For this reason, Loux estimates that there could be 3-4 times more instances of harm. Loux says, "the sense I get from people here is, 'this is not acceptable.' What's not acceptable is this movement with no ability to control it."
What Loux is referring to is the fact that dicamba often spreads beyond the intended target area.
After dicamba is applied to crops it can turn into a vapor and then move to the surface of leaves and spread to neighboring fields with the wind. Loux says that it can sometimes spread as far as half a mile away.
"I've seen it cover whole soybean fields," he said.
While dicamba is being sprayed onto plants, it can move with the wind as wet particles or even when rain runs off from a field treated with the weed killer. It can then move on to another field or in to a ditch which would carry it even farther.
Although dicamba has been used in corn fields in years past, complaints about the chemical are more numerous because the amount of dicamba being used has increased. This itself is the result of the use of dicamba to control weeds in soybean fields.
As is
typically the case
when one is discussing emerging dangers and
catastrophes to America's agricultural system
, the trail leads back to Monsanto.
Last year, Monsanto and other biotech companies, released the Xtend soybean which is designed to tolerate dicamba. So now more GMO soybean farmers are using dicamba in their fields. In case one might not have guessed, dicamba is produced by both BASF and Monsanto.
From the standpoint of the biotech industry, the emerging dicamba crisis is simply a good business model because as more dicamba is used and more dicamba contamination takes place, more farmers find it necessary to buy biotech's Xtend soybeans to protect their crops from being destroyed by dicamba.
So, once again, an emerging agricultural crisis is the result of the biotech monopoly with Monsanto as its spearhead despite the fact that some countries are fighting back against Big Ag and corporate farming, the United States is in a race with the rest of the world to see how fast it can achieve a food system that is toxic and inedible.
Unfortunately, America seems to be winning that race.
Image: University of Arkansas.

Get a nifty FREE eBook – Like at Facebook, Twitter and Instagram.


Brandon Turbeville – article archive here – is an author out of Florence, South Carolina. He is the author of six books, Codex Alimentarius — The End of Health Freedom, 7 Real Conspiracies,Five Sense Solutions and Dispatches From a Dissident, volume 1 and volume 2, The Road to Damascus: The Anglo-American Assault on Syria,and The Difference it Makes: 36 Reasons Why Hillary Clinton Should Never Be President. Turbeville has published over 1,000 articles dealing on a wide variety of subjects including health, economics, government corruption, and civil liberties. Brandon Turbeville's podcast Truth on The Tracks can be found every Monday night 9 pm EST at UCYTV. He is available for radio and TV interviews. Please contact activistpost (at) gmail.com.