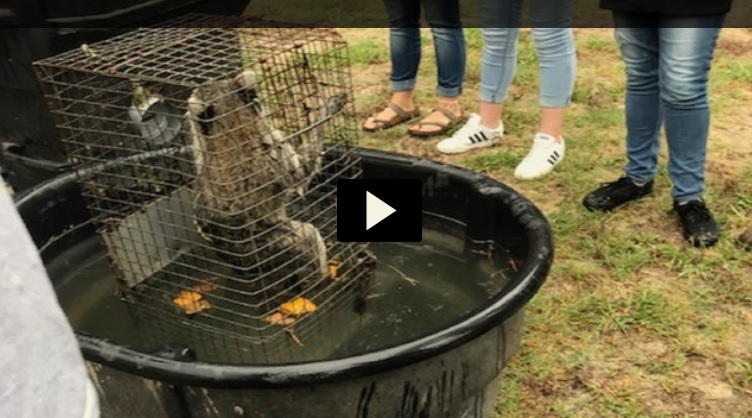 Brandon Turbeville
Natural Blaze
May 17, 2018
Only a month after a teacher in Idaho teacher allegedly
fed a live puppy
to a snapping turtle in front of his class, yet another public school teacher has caused a controversy by
torturing an animal to death
in front of students by slowly drowning them in a garbage can full of water. This time, the psychopath in question resides in Florida and the incident at Forest High School in Marion County was caught on camera. The victims were two raccoons and an opossum.
An investigation is now underway after a student brought home a video recording of the incident that the students were forced to participate in. The students' mother said that the student came home in tears over being forced to take part in the murder.
Apparently, the raccoons were blamed for killing chickens being raised by the agricultural class. The teacher trapped the racoons in a wire cage. He then filled a large garbage can with water and lowered the raccoons into the water-filled can. As the raccoons struggled to get their heads above water in order to breathe, the teacher and his students held them down with metal rods.
An opossum was later found (not blamed for killing chickens) and was killed for sport.
The students were forced to take part and anyone who refused was threatened with a "referral," which means punishment.
"It made me sick. It made me sick to my stomach. It's terrible. It still does make me sick to my stomach," the woman said.
"When the raccoons tried to come up for air they had metal rods and they held them down with metal rods and when the raccoon would try to pop its head up they held water hoses in its face to drown it," the mother said.
The killing of the possum and the threat of the "referral" shows that the psychopath in charge of teaching children knew what he was doing was either illegal or would result in controversy, hence his need to hide the act. The possum was not blamed for killing chickens, however, so clearly the killing was motivated by a desire to drown and kill a defenseless animal.
While the student who reported the incident was traumatized by the event (as anyone with a conscious is prone to be) it should be noted how many students were happy to take place in the act. Both the students who were traumatized at the event and those that happily took part are now obviously in need of counseling since such gleeful participation in drowning animals is not a hallmark of being well adjusted. In fact, it is much more likely that such behavior is the hallmark of a sadist or serial killer.
That such incidents are becoming more and more common shows just how dangerous and sick public schools have become. Hopefully, the teacher who led the animal lynching will not only be fired but will be forced to suffer criminal and legal consequences.
In addition, we hope the school willingly provides the children who were forced to take part in this atrocity with proper counseling from a private source, outside of the school.
In other news, homeschooling is a wonderful option.

Please help us out by sharing!

This article (Teacher Had Students Drown Live Raccoons In Class) was created by and appeared first at Natural Blaze. It can be reshared with attribution but MUST include link to homepage, bio, intact links and this message.

Get a nifty FREE eBook – Like at Facebook, Twitter and Instagram. Can republish but MUST include author name + link back at the TOP, links and bio intact. Must include this message!


Brandon Turbeville – article archive here – is an author out of Florence, South Carolina. He is the author of six books, Codex Alimentarius — The End of Health Freedom, 7 Real Conspiracies,Five Sense Solutions and Dispatches From a Dissident, volume 1 and volume 2, The Road to Damascus: The Anglo-American Assault on Syria,and The Difference it Makes: 36 Reasons Why Hillary Clinton Should Never Be President. Turbeville has published over 1,000 articles dealing on a wide variety of subjects including health, economics, government corruption, and civil liberties. Brandon Turbeville's podcast Truth on The Tracks can be found every Monday night 9 pm EST at UCYTV. He is available for radio and TV interviews. Please contact activistpost (at) gmail.com.