Brandon Turbeville
Activist Post
March 14, 2017
As terrorism and clashes between Sinai militants and Egyptian security has slowly increased since the ouster of Muslim Brotherhood member Morsi from his position as President of Egypt, so has ISIS activity in the peninsula.
Egyptian security have been facing an increase in activity for some time from the Sinai militants but the introduction of ISIS proper has also caused the situation to worsen. Yet, up until now, the situation seemed more sporadic even if it was increasing in frequency.
Recent photos emerging
from the Sinai region, however, suggest that ISIS' foothold in Egypt might be greater than many, including the Egyptian security forces, suspected.
If photos are actually depicting what they allege, then ISIS has become so powerful in the Sinai that the port city of al-Arish is now being subjected to ISIS checkpoints. Arish is the capital of the North Sinai and is the largest city on the peninsula.
These pictures show
ISIS fighters, complete with rifles and RPGs, walking through traffic and inspecting drivers' IDs. One picture shows a man being detained by the fighters in the city square.
The photos were released by Amaq Agency, which is the official ISIS news outlet (curiously, never hacked or shut down by the greatest technological power in the world, despite claims that it is fighting the terrorist organization).
Of course, there is a possibility that the photos were staged and are being used to instill fear in the Egyptian population. As of yet, there has been no independent confirmation of the veracity of the photos.
In a recent video, however, ISIS called on its fighters to begin slaughtering Egypt's Orthodox Coptic Christians.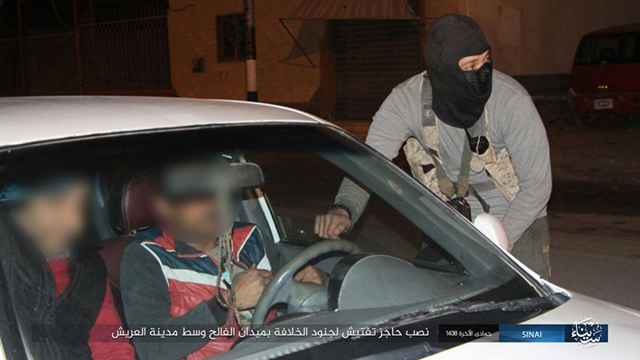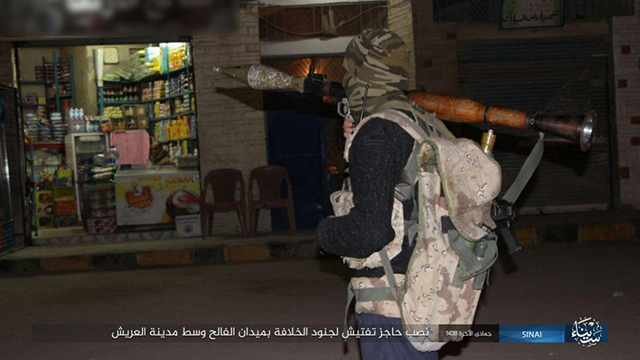 Brandon Turbeville – article archive here – is an author out of Florence, South Carolina. He has a Bachelor's Degree from Francis Marion University and is the author of eight books, Codex Alimentarius — The End of Health Freedom, 7 Real Conspiracies, Five Sense Solutions and Dispatches From a Dissident, volume 1 and volume 2, and The Road to Damascus: The Anglo-American Assault on Syria, The Difference It Makes: 36 Reasons Hillary Clinton Should Never Be President and Resisting The Empire: The Plan To Destroy Syria And How The Future Of The World Depends On The Outcome. Turbeville has published over 1000 articles dealing on a wide variety of subjects including health, economics, government corruption, and civil liberties. Brandon Turbeville's podcast Truth on The Tracks can be found every Monday night 9 pm EST at UCYTV. He is available for radio and TV interviews. Please contact activistpost (at) gmail.com.